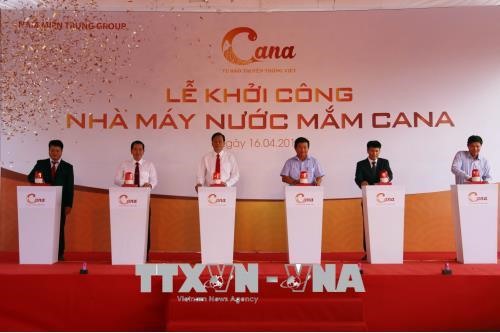 The Ca Na fish sauce factory is the largest registered project in Ninh Thuận Province, with an investment capital of US$10 million. — VNA/VNS Photo Công Thử
Viet Nam News
NINH THUẬN — A ground-breaking ceremony for the Ca Na fish sauce factory took place in the southern province of Ninh Thuận on April 16.
The project is the largest in the province, with investment capital of US$10 million.
The Nam Miền Trung Aquaculture Investment Co Ltd and the local People's Committee organised the ceremony.
Located in Phước Minh Commune, Thuận Nam District, the Ca Na fish sauce factory project will be built on more than 37,700sq.m area and produce 3.8 million litres per year.
Investment capital for the first phase of the plant is $4.5 million and the plant is expected to come into operation in April next year.
Nguyễn Hoàng Anh, general director of the Nam Miền Trung Aquaculture Investment, said the factory will focus on producing products using high technology from Japan to shorten time for processing and reduce costs while enhancing quality of products.
The factory is expected to expand its production capacity to 20 million litres per year after completing satellite processing plants.
Revenues are expected to reach VNĐ400 billion ($17.6 million) by 2020, and increase from 15-20 per cent per year on average for the following years when the plant reaches 100 per cent of its designed capacity.
The company expects to gain a domestic market share of 1-3 per cent by 2022. — VNS
Nguồn: vietnamnews.vn