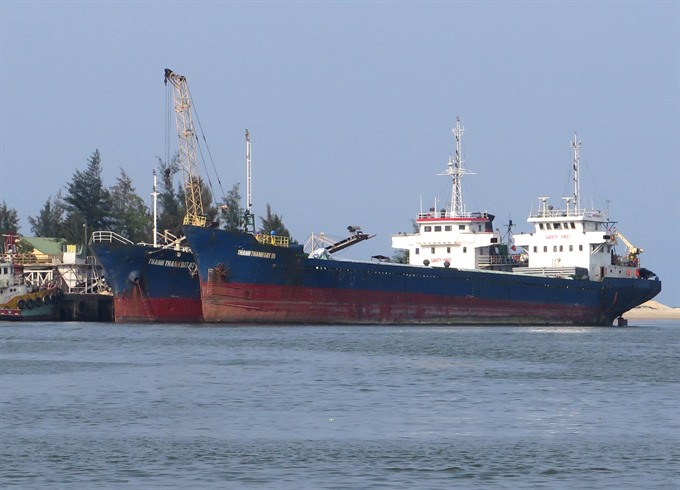 Ships docking at Cửa Việt Port in the southern province of Quảng Trị. — VNA/VNS Photo Nguyên Lý
Viet Nam News
HÀ NỘI — High logistics costs and inefficient logistics networks continue to provide a challenge for policy makers, hamper businesses, and threaten competitiveness.
Prime Minister Nguyễn Xuân Phúc, during his speech at a national logistics conference on April 16, reaffirmed the importance of capable logistics infrastructure in Việt Nam's economic growth. The industry is valued at billions of US dollars, and is one of the 12 priority industries supported by the ASEAN community.
And yet, this attractive service sector may soon be taken over by foreign firms, seeing as domestic ones have yet to become fully established on the market, said the PM.
He quoted Benjamin Franklin, "Beware of little expenses. A small leak will sink a great ship", emphasising the potential harm that high logistics costs and ineffectual transport can cause to the economy.
As assessed before by the World Bank, logistics costs in Việt Nam are equivalent to about 20.9 per cent of total GDP, of which transport costs account for 60 per cent.
The same number in China is around 19 per cent, while it is 18 per cent in Thailand; 11 per cent in Japan and roughly 10 per cent in European countries. This puts Việt Nam at number 64 out of 160 countries on the World Bank's Logistics Performance Index.
"High logistics costs are among the biggest barriers for Vietnamese enterprises' competitiveness, mainly due to unreasonable investment and poor connections between different modes of transport," said the PM.
Therefore, the Government must actively promote reducing the cost of logistics for businesses via concrete deeds, such as the recently approved Action Plan to improve Việt Nam's competitiveness and develop logistics services by 2025.
There should be strong State support mechanisms and policy planning in the sector, since its functions are not just limited to freight forwarding, but also include other activities such as warehousing, packaging and cargo handling.
"If the logistics sector is well and good, it will save transportation and product costs, and increase firms' competitiveness and profit", added PM Phúc.
Speaking at the conference, Deputy Prime Minister Trịnh Đình Dũng addressed four current issues facing the logistics sector, as well as possible solutions to be enforced.
The first and foremost problem involves institutions and policy, as current legal regulations on logistics may need to be amended to keep up with present day industry demand. There is also indication that some localities with domestic ports have yet to properly locate warehouses and shipyards to store goods, thus pushing transport costs up.
The second issue that the Deputy PM mentioned was related to infrastructure development, chiefly with regard to connecting transport routes between logistics centres such as ports, railways, airports, and cargo transshipment ports.
Thirdly, he discussed inefficiency in linking different modes of transport, highlighting some difficult to explain issues such as market favourability for high cost transport modes. Sea and railway transport account for 4.7 and 0.39 per cent of total transport respectively, while road transport accounts for nearly 80 per cent, yet road transport is favoured over the cheaper alternatives.
Finally, he suggested that logistics firms focus on the operation scale expansion and human resources training.
Meanwhile, Deputy Minister of Transport Nguyễn Văn Công stated that the domestic aviation sector is accelerating air cargo services development and establishing its own freighter network, encouraging investors to finance regional cargo airports with the appropriate incentive mechanisms.
According to the Ministry of Transport (MoT), the estimated cost of transporting a 40 foot long container (about 12 metres) by road from Hà Nội to HCM City (excluding the cost of unloading and loading at both ends) is about VNĐ40 million (US$1,780), practically 10 times more expensive than by sea, and 2.5 times more expensive than by rail.
Công said that the high cost is due to unfair competition, mainly through intermediaries, which has done little to optimise the national transport sector. Notable examples are high petrol prices and Build–Operate–Transfer (BOT) charges.
Railway, inland waterways and seaway transportation are lower in cost, but transport time is much longer, with higher loading and unloading fees and outdated carriers.
Công added that in order to reduce logistics costs, the MoT should invest in the formation of a national high-speed road network, dedicated to ensuring efficient connections between industrial parks, key economic centres, and important traffic hubs, as well as between sea ports, railway stations and inland water ports. — VNS
Nguồn: vietnamnews.vn