Le Thi Thanh Thuy wholeheartedly supports Agent Orange victims
Friday, December 23, 2016 - 17:39:10
(VOVworld) – Moved by her great sympathy for Agent Orange victims, Le Thi Thanh Thuy, Director of the Petrolimex Bank in Ba Ria Vung Tau province, has worked actively to help them. Over the years, Thuy has taken part in many charity programs for AO victims.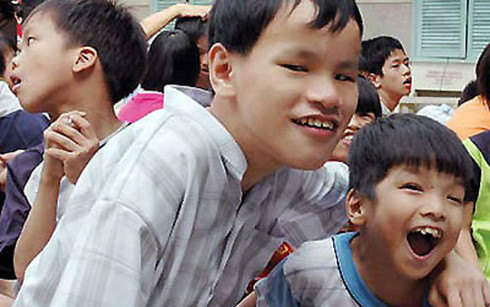 Young Agent Orange victims.
Born into a poor family without a father's care, Le Thi Thanh Thuy experienced a childhood of material and emotional difficulty. For this reason, Thuy sympathizes for disadvantaged people, especially Agent Orange victims. Since 2010, Thuy and her husband, with support from friends and other donors, have adopted 68 children disabled by Agent Orange/ dioxin. 40 families of Agent Orange victims in Ba Ria-Vung Tau receive monthly support consisting of 10 kilos of rice, instant noodles, and confectionary from her. Thuy says relieving the pain of Agent Orange is not only a community responsibility, but a way to pay tribute to those who have sacrificed for national independence: "In addition to material support, Agent Orange victims need sympathy and sharing from the community to overcome their difficulties. I am happy that many other people join me in taking care of Agent Orange victims. I plan to build charity houses for the victims. I will do as much as I can to help them".
Thuy has raised around 88,000 USD from donors to help AO victims. Mr. Nguyen Van Nhan, Chairman of the Association for Agent Orange Victims in Ba Ria-Vung Tau province, told VOV: "Ms. Thuy has raised money and given support to 80 AO victims for nearly 4 years. She is wholehearted for charity work".
Nguyen Thai Ha, a teacher at Nghia Trung secondary school in Nghia Dan district, Nghe An province, is in particular difficulty. His family has 3 people affected by Agent Orange/ dioxin. Ha's family receives support from Thuy: "Ms. Thuy donates 25 USD per month to my family and often contacts us. This money reduces our material difficulty. She is kind-hearted".
Thuy also takes part in charity activities in other localities. Tran Thi Doan Trang, Chairwoman of the Blind Association of Ba Ria-Vung Tau province, said: "Ms. Thuy pays hospital fees for the poor blind people. She takes part in charity work not only in Ba Ria-Vung Tau but also in other provinces. I hope more people will support disadvantaged people as Ms. Thuy does".
Bich Huyen
Nguồn: vovworld.vn